X-ray Crystallographic Center at University of Maryland currently operates 5 diffractometers located in 3 labs:
Chemical Crystallography
Materials Characterization
Advances Diffraction 
Chemical Crystallography lab performs single crystal structure determination using Bruker CCD systems:
Bruker Smart Apex2 diffractometer is equipped with: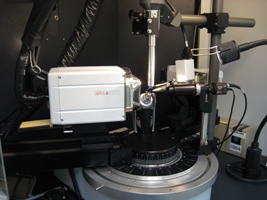 MoKα sealed X-ray tube;
The newest Apex2 CCD area detector for rapid data collection from crystals;
Graphite monochromator and Mono cap collimator;
Motorized detector to crystal distance from 4 to 15 cm;
CryoStream 700 low temperature system working in 80 K - 400 K range;
Integrated Apex3 software suit for integration and advanced data treatment.
Mounting Crystals:
The lab is equipped wide field Leica microscope for crystal selection and mounting which is visualized on wall-mounted TV screen;
Glove box with microscope/TV system for handling air and humidity sensitive crystals;
Mounting technique used: MiTeGen loops, glass fibers, capillaries, cactus needles, etc.
Selection of various viscosity oils for handeling and monting crystal medium.
Materials Characterization lab employs powder diffraction using Bruker C2 Discover and D8 Advance  systems:
C2/D8 Discover diffractometer with Area detector:
CuKα sealed X-ray tube with graphite Göbbel mirror;
Vantec 500 area detector for 2D diffraction and high quality patterns from small samples;
Parallel beam geometry to probe small areas or irregular shaped sample;
XYZ stage for selecting desired spots and combinatorial screening;
Capillary spinner for better randomizing crystallite orientation and air sensitive samples;
Video microscope with laser alignment for precise sample positioning;
DHS 1200 Hot stage providing high temperature up to 1200°C under vacuum, Ar or N2.
D8 Advance diffractometer with LynxEye and SolX:
Choice of MoKα and CuKα radiation;
9 Position sample changer and scatterless sample holders;
ICDD powder diffraction database and search/match software;
EVA software for data treatment;
Advanced TOPAS software for structure refinement.
Advance Diffraction lab includes Small Angle X-ray Scattering and Thin Film Reflectivity systems:
Xenocs Xeuss SAXS/WAXS/GISAXS small angle system:
5 Meter system with CuKα sealed 30W tube high brightness micro-focus source;
Parallel beam optics and scatterless slits with automatic alignment;
Variable Sample-to-Detector distance from 10 to 250 cm;
300K Dectris Pilatus detector for small angle scattering with a minimum Q = 0.0045 Å-1;
100K Dectris Pilatus detector for wide angle scattering (up to about 45° 2q);
Linkam stage controlling temperature from about -100 °C to 250 °C.
PANalytical XPert Pro MRD system for reflectivity (XRR):
Sealed CuKα sealed tube with parallel beam W-Si mirror;
Cross slits for incident beam and extra long diffracted beam collimator;
4 Circle goniometer with XYZ motions;
Magnetic stage and tape-free mounting T-holder for wafers;
Attenuator for direct beam measurement.