Statement of Mutual Expectations between Biochemistry and its Graduate Students
Graduate students in the Biochemistry doctoral program are expected to develop a mastery of their field, and gain familiarity with their discipline from arrival to graduation through active participation in research, seminars, and presentation at professional meetings. Students should make the transition from classroom learning to active supervised full-time original research during the first two years of their graduate career.
In particular, doctoral students in Biochemistry who arrive with a baccalaureate degree normally will:
Choose a thesis adviser at the end of the third laboratory rotation, during the second semester of the first year.
Become engaged in research by the summer of the first year.
Secure advancement to candidacy within 2 years.
Submit a minimum of one paper for publication prior to graduation.
Complete all requirements and graduate within 5-6 years.
Graduate students in the Biochemistry doctoral programs normally may expect:
A wide selection of courses.
Advice and mentoring by program faculty prior to the selection of an adviser.
From their adviser (or, in some instances the program):

Regular access and advice during the research and thesis writing process.
Training in the preparation of oral and written scholarly presentations; in particular, advice and support for the writing of at least one paper for publication.
Introductions, for example at conferences, to other members of the field.
Assistance and advice with job searches.
 
---
Biochemistry Requirements
---
Timeline for Biochemistry Ph.D. Students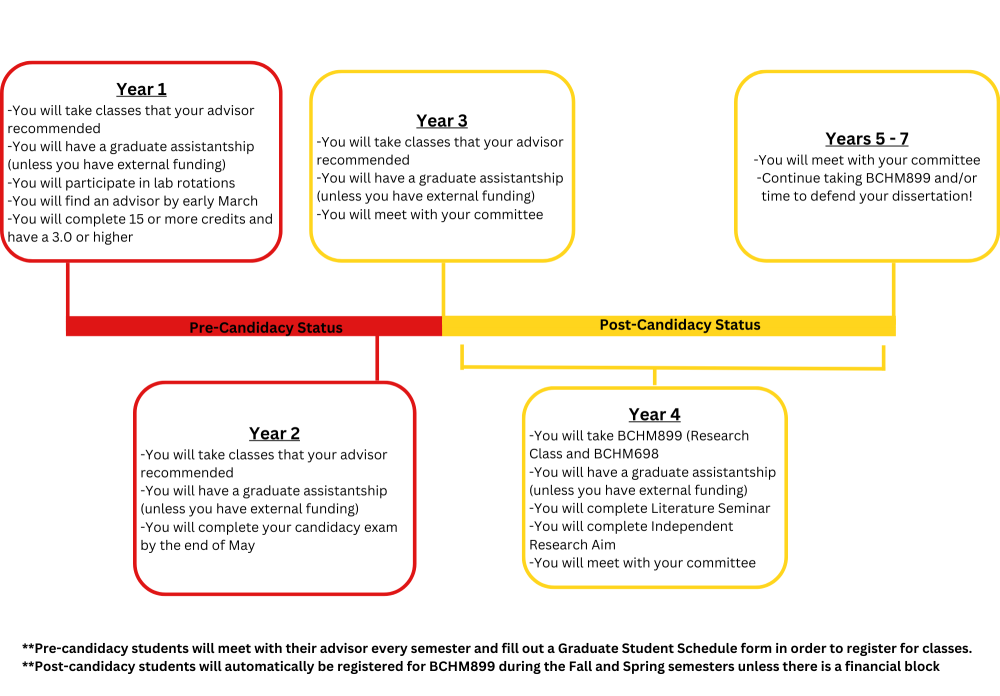 ---
Forms for Biochemistry Ph.D. Students
---
Timeline for Biochemistry Master's Students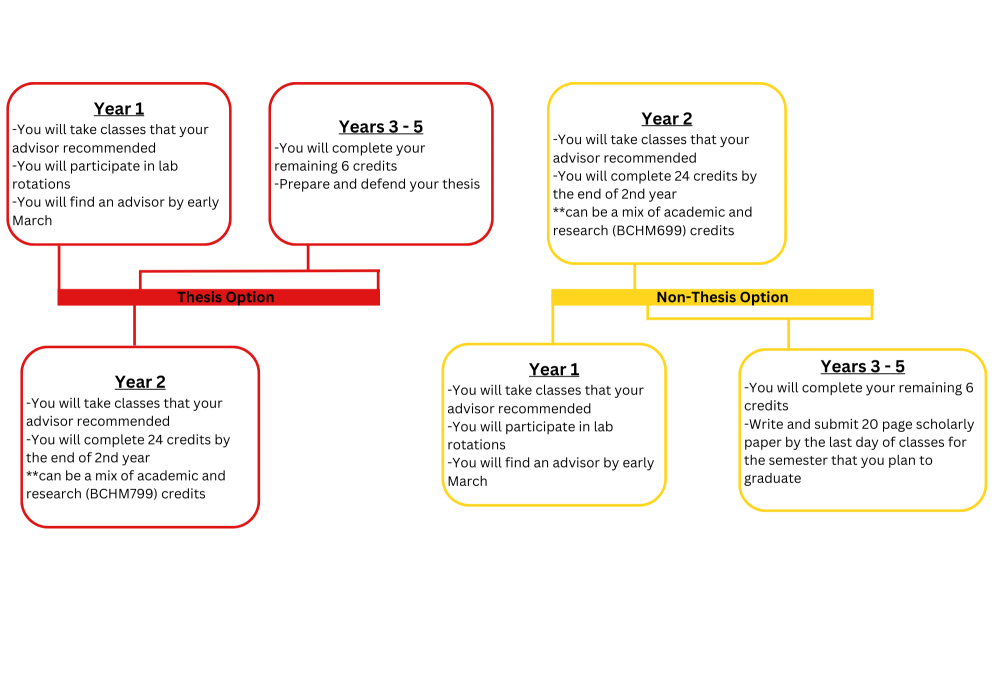 ---
Forms for Biochemistry Master's Students
---
Graduation Steps
At the beginning of the semester in which you intend to graduate, you should complete the following forms (with advisor's signatures where required) and email them to the Graduate Office (chem-gradoffice@umd.edu).
Check Academic Deadlines

If you need to nominate a Special Member to sit on your committee, please fill out this Google Form at least 3 weeks before the deadline for submitting the nomination form.

Submit Defense Scheduling Google Form(Departmental) to ensure your defense gets announced

Defend your dissertation/thesis

Submit your dissertation/thesis via the ETD System by the appropriate academic deadline

(Master's Students only-- both thesis and non-thesis) Submit Approved Program Form to Graduate Office by appropriate deadline 
     Note: Master's Students doing the non-thesis option do not need to follow steps 3-7. You will need to submit the scholarly paper and form to the Graduate Office by the last day of classes
---
Helpful Graduation Checklists/Resources
---
Graduate School Forms
If you need to submit a petition, waiver and/or a request to the Graduate School, please go here to view all of their forms or you can contact chem-gradoffice@umd.edu to figure out what form you need.