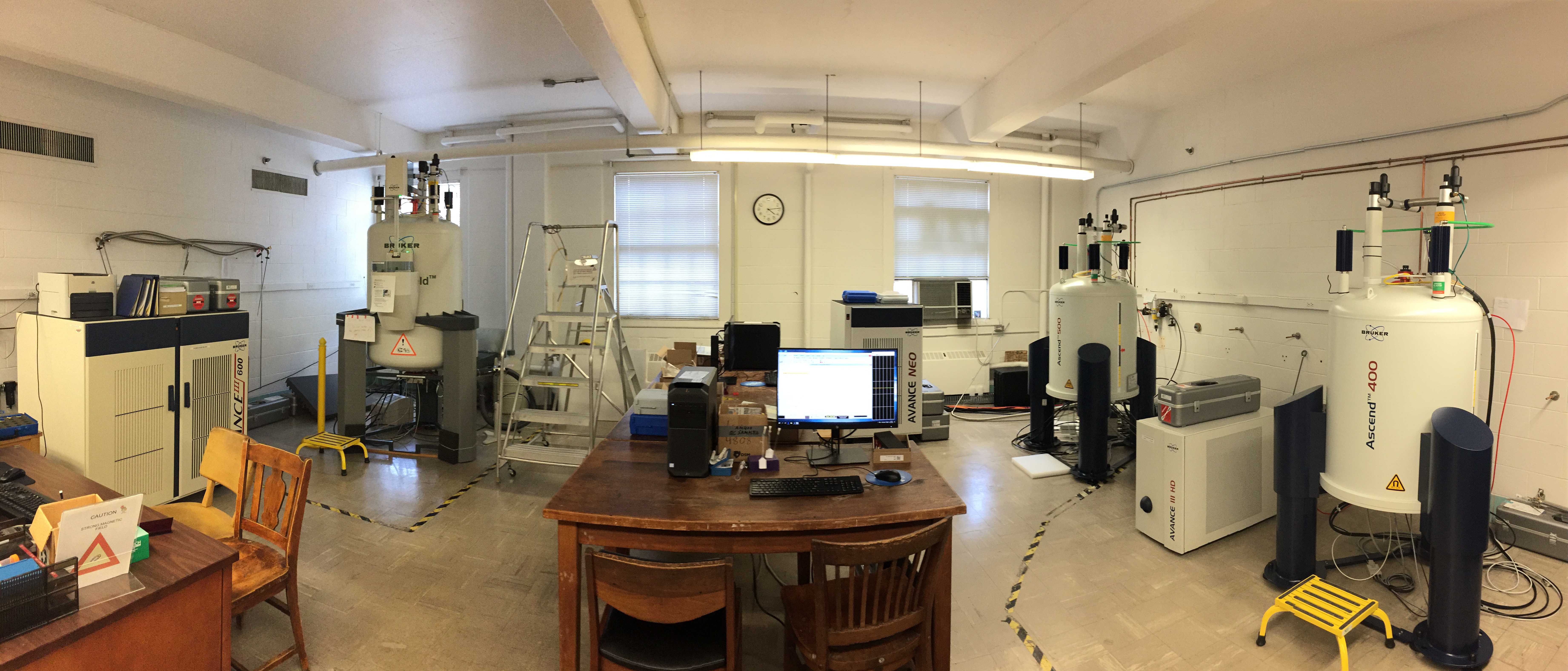 Welcome!
Dear all NMR users,

UMD and Department are moving COVID-19 Phase I to Phase II on August 24, 2020. The Analyitcal NMR facility changes the rules. The general rules for all facilities are in the Announcement-Shared Facilities June 11 Reopening for Phase 1-Research.Chemistry.and.Biochem.pdf and the detail protocols for the Analytical NMR Facility are in the Protocols during COVID-19 Phase II_Analytical NMR Facility_20200825.pdf. At this stage, new users training will be allowed and the details are in the New User Training Plan Analytical NMR Facility_20200825.pdf. All NMR users need to strictly follow both general rules and detail protocols which are also posted on each entrance door of NMR rooms.
Notes:
- Facility managers will be on site for limited periods each week (Wednesday 8 am - 2 pm weekly) to maintain NMR instruments. The liquid He refill time will be scheduled and noticed when it is delivered. Try to communicate with email or telephone as much as possible during regular business hours: 9:00 am – 5:00 pm.
- All users need to wear face mask and use their new gloves before entering NMR rooms and wear the face mask and gloves all the time in NMR rooms. Face mask and gloves will not be supplied by NMR facility.  In Room B0128 and B0124, there is a bottle of hand sanitizer, a bottle of ethyl alcohol and a pile of paper towel near the sink.  Please spray the ethyl alcohol on the paper towel to clean the surface of desk, keyboard and mouse before you leave lab. Please do not clean spinners use alcohol, only Kimwipes!!! In Room B0117, there is also a bottle of hand sanitizer, a bottle of ethyl alcohol and a pile of paper towel on the chair after the entrance door.
The Facility is equipped with Bruker solution and solid-state NMR spectrometers, with different configurations to support various NMR detection.
The facility is open access to both academic and non-academic clients. Research and development are available for non-routine analyses.
To achieve the best outcome, we always keep in touch with users to monitor the progress and make adjustment correspondingly.
Feel free to contact us for details and planning for your NMR analyses.
For teaching and research programs at University of Maryland, hands-on operations and NMR workshops are available several times a year.
Features:
Six Bruker NMR spectrometers (AV III 600 MHz, DRX 500 MHz, AV III HD NanoBay 400 MHz, AV NEO 400 MHz, AV 400 MHz solution and AV NEO 500MHz solid-state).
Variable temperature and multinuclear capabilities are sutiable for some systems.
Operating year round and providing services to all scientific researchers in the region.
Fast turn-over for product analysis (H-1, C-13, F-19 and P-31).
Suitable for quality and purity controls, product and reaction trackings.
Advanced two dimensional NMR and insensitive nuclei detection for complex or organometallic compounds.
Consultation, research and development for new projects available.
Network with NMR workstations for off-line data processing.
Last update: Feb, 2020 FC