Professor Efrain Rodriguez Named 2023-24 Distinguished Scholar-Teacher
The materials chemist has been teaching at the University of Maryland for more than a decade.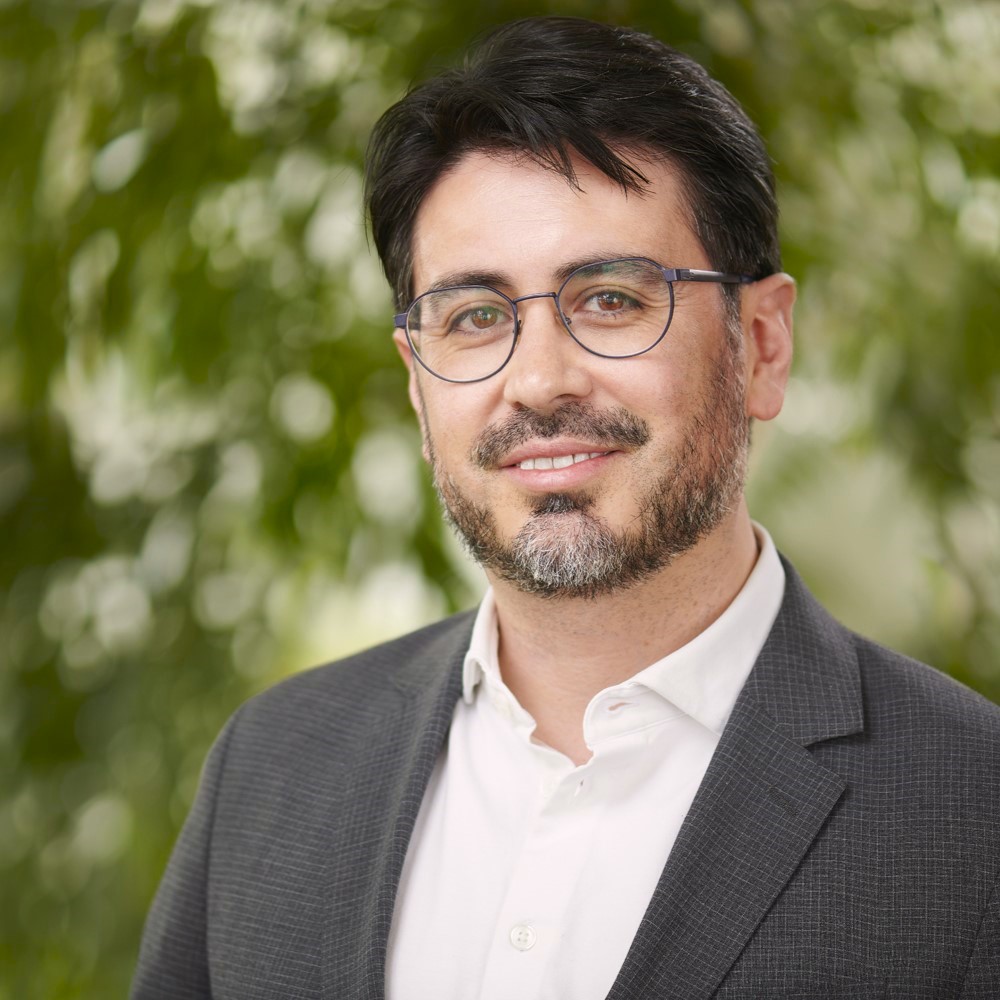 Established in 1978, the Distinguished Scholar-Teacher Program honors faculty members who have demonstrated notable success in both scholarship and teaching. Distinguished Scholar-Teachers receive an honorarium of $5,000 to support their research and mentoring activities and give a public lecture on a topic within their scholarly discipline. Rodriguez will present his lecture, titled "Beyond sparkle and glitter: how the science of crystals will usher in the quantum revolution," on March 28, 2024.
"Efrain Rodriguez exemplifies the standards and accomplishments expected for a Scholar-Teacher. He is at the cutting edge of our discipline, developing new knowledge on the structure and properties of low-dimensional solids. His enthusiasm and encyclopedic knowledge of solid-state chemistry inspires University of Maryland students at all levels," said Janice Reutt-Robey, chair of UMD's Department of Chemistry and Biochemistry. 
Rodriguez joined UMD in 2012 as a materials chemist—researching, synthesizing and discovering novel materials. His research lies at the intersection of multiple disciplines including solid-state chemistry, condensed matter physics, crystallography (a science that looks at the arrangement of atoms and molecules within crystalline solids) and materials science. 
His lab, the Functional Inorganic Materials Group, explores inorganic materials and how their atomic structure leads to extraordinary properties. By analyzing the properties of these materials, scientists can determine a material's potential function or practical uses in the real world, such as next-generation technologies capable of generating and storing energy or countering chemical warfare. 
Rodriguez and his research team have made notable advances in quantum materials, neutron scattering, crystallography, and novel magnetic materials. Recent research from the lab includes an investigation into crystalline materials capable of taking in and releasing oxygen (showing promise as a material for oxygen storage) and an analysis of the decomposition of sarin gas when interacting with porous metal oxides. 
In 2016, Rodriguez received a Faculty Early Career Development (CAREER) Award from the National Science Foundation to develop a new class of materials with functional magnetic and electronic properties. In 2019, he received the Margaret C. Etter Career Award from the American Crystallographic Association for his lab's work using neutrons to determine the magnetic structures of crystalline materials. In 2022, he received the Alexander von Humboldt Award for Experienced Researchers to carry out his sabbatical investigating two-dimensional materials at the Max Planck Institute for Solid State Research in Germany. The lab continues to investigate crystals, magnetic layered materials and quantum materials to both solve some fundamental questions on the physics of materials and also address the energy and environmental challenges of both today and tomorrow. 
As an educator, Rodriguez has mentored and advised three postdocs, ten Ph.D. students and 11 undergraduate students at UMD. Rodriguez's students have gone on positions in the private and public sectors, from Ford Motor Company and Intel Corporation to the National Institute of Standards and Technology. 
"Efrain is the consummate scholar-teacher. Everything he does reflects how much he respects and values his scientific discipline, his colleagues and his students," said Chemistry and Biochemistry Professor Jeffery Davis, who nominated Rodriguez for the award and was also previously named a Distinguished Scholar-Teacher. "Efrain's innovative thinking, his enthusiasm, his thoughtfulness and his good humor make him a genuine joy to interact with."
In addition to his efforts in the classroom, Rodriguez supports students in the department in various ways. He served as faculty advisor of the American Chemical Society student chapter at UMD and currently serves as the co-advisor to the Society for the Advancement of Chicanos/Hispanics and Native Americans in Science (SACNAS) UMD chapter. He also organized, co-organized or participated in numerous outreach efforts encouraging young students underrepresented in STEM fields to pursue a career in the sciences.
Rodriguez strongly believes that students—as researchers-in-training—need adequate infrastructure and support to thrive. He has taught a wide variety of courses at UMD, from CHEM 146: "Principles of General Chemistry" for majors to graduate-level inorganic chemistry classes. In both his lab and his classroom, Rodriguez instills in his students a drive for critical thinking, openness to collaborative research, effective science communication, ethical conduct and high-quality research. He hopes that his teaching and research efforts will build up his students' confidence in themselves and their skills, ultimately helping them embark on their own journeys to success. 
"I'm very proud of seeing all the students who trained in my lab develop their own style of approaching research after watching how I do science in my lab and how we all aspired to produce high-quality science. And now, they're fully independent scientists," Rodriguez said. "It's an honor to receive the Distinguished Scholar-Teacher award because it symbolizes the truly important work that I have done here at UMD."   
Rodriguez earned his B.S. in materials science at the Massachusetts Institute of Technology in 2003 and his Ph.D. in materials at the University of California, Santa Barbara in 2009.
--
Georgia Jiang
Science Writer & Media Coordinator
College of Computer, Mathematical, and Natural Sciences
3400 A.V. Williams Building