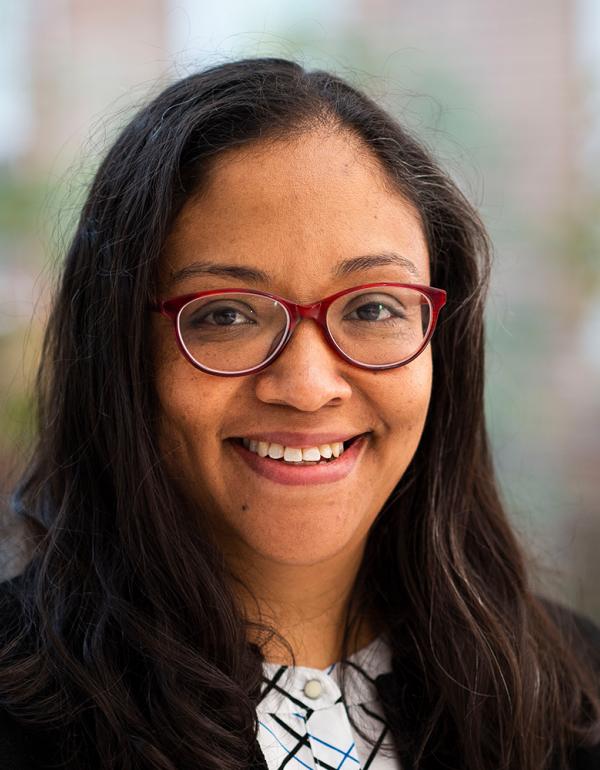 Contact Info
280 Shennecossett Rd., Bldg. 220, Groton, CT 06340
Phone: 443-824-2519
Nicole LaRonde
Senior Principal Scientist, Pfizer
Education
B.S. Chemistry, 1995, Rivier College, Nashua, NH
Ph.D., Biophysics and Biophysical Chemistry, 2002, Johns Hopkins University School of Medicine, Baltimore, MD (Biochemistry, Cellular and Molecular Biology Program, w/ Cynthia Wolberger)
Post-Doctoral, 2002-2004, Macromolecular Crystallography Laboratory, National Cancer Institute, Frederick, MD (Cancer Research Training Fellow w/ Alexander Wlodawer)
Professional Experience
Assistant Professor, Dept. of Chemistry and Biochemistry, University of Maryland, 2006-present
Full Member, University of  Maryland Marlene and Stewart Greenbaum Cancer Cente, 2008-present
Research Interests
Structural and functional studies of proteins involved in ribosome biogenesis.
Biophysical characterization of secreted mycobacterium virulence proteins.
Inhibitor design and development.
Biophysical and biochemical studies of macromolecules.
Determination of protein and nucleic acid structures by X-ray crystallography.
Professional Societies
American Crystallographic Association
National Organization for the Professional Advancement of Black Chemists and Chemical Engineers (NOBCChE)

American Society for Biochemistry and Molecular Biology

American Association for the Advancement of Science
Major Recognitions and Honors
2005 Young Investigator Award, SER-CAT
2005 Fellows Award for Research Excellence, NIH Fellows Committee
2006 FEBS Journal Prize for Young Scientists
2006 NIH Group Merit Award
2008 ACS PROGRESS/ Dreyfus Lectureship Award
2008 Keystone Symposia Fellow
2010 NSF CAREER Award
Significant Professional Service and Activities
Graduate Program Committee, Department of Chemistry and Biochemistry, University of Maryland (2007 to 2010, 2011-present), American Association of Undergraduate Women, International Grant Panel Member (2007 to 2011). Grant Review (Ad-Hoc, NSF, 2007, 2008, 2011; Guest Panelist, NIH, 2012; Panelist NSF, 2012). Editorial Advisory Board (FEBS J.) Manuscript Review (Structure, FEBS J., FEBS Lett. Eur. J. Med. Chem., J. Biol. Chem., J. Struct. Biol., PLoS One, Proc. Nat. Acad. Sci., Gene Ther.).
Students Mentored
Have mentored or currently mentoring 3 high school students, 21 undergraduates (3 current), 7 graduate students (4 graduated, 3 current) and 2 post-doctoral trainees.
My laboratory is focused on the study of molecules required for the synthesis of new ribosomes. A proliferating cell devotes 75% of its energy towards making these machines for protein synthesis. In the process of assembly of this large complex of RNA and proteins, an estimated 400 ribosome processing factors are utilized in humans. Although many of these proteins and protein-RNA complexes have been identified, for several of them their exact function in the process remains unknown. We are interested in determining the molecular details of how these macromolecules function in eukaryotic organisms.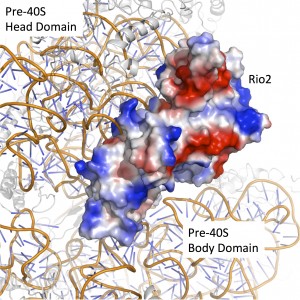 We are currently studying the structural biology of the RIO kinases, a group of ancient atypical serine protein kinases, and Nep1, a putative RNA methyl transferase. These molecules are essential for the processing of the small ribosomal, or 40S, subunit. The role of these molecules in the synthesis of ribosomes is still unclear, but armed with X-ray crystal structures we are probing the interactions between these molecules and the rRNA, as well as with other molecules involved in the process. Our work thus far has elucidated how the RIO kinases interact with ATP and the pre-mature small subunit of the ribosome, and how Nep1 interacts with RNA. Our current work involved using these structures to guide questions in biochemical and biological contexts.
Although we are interested in the basic science surrounding these molecules, we are also interested in how these molecules may be targeted for therapeutic use. Ribosome synthesis is indispensable to highly proliferating cells, such as cancer cells. The inhibition of ribosome synthesis has the potential to inhibit cellular proliferation, and thus cancer cell progression. Therefore, our structural work also involves the design of small molecule inhibitors of ribosome synthesis.
In addition to our work in ribosome synthesis, we have determined the X-ray crystal structures of several molecules of biological importance as part of collaborative research programs.