William "Bill" Walters Retires on Golden Anniversary
One of UMD's first nuclear chemists reflects on a long journey. 
Professor William "Bill" Walters trained a generation of nuclear chemists and conducted research that led to a better understanding of the structure of the atomic nucleus. But his first exposure to his chosen profession wasn't chemistry. It was farming.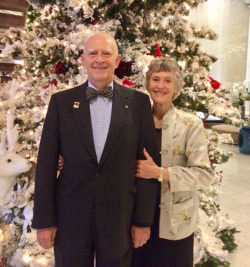 "We didn't even have chemistry classes in my high school," Walters recalled with a laugh. "But freshman year we would go out and get soil and test it—mostly for pH—to see if we needed to neutralize it with limestone."
Walters was raised in Highland, Kansas, where his parents grew corn and soybeans, and most things, including school, revolved around farming. It wasn't until he went off to Kansas State University, after two years of community college, that Walters finally discovered his affinity for chemistry and research. He caught up quickly, going on to earn a Ph.D. in physical chemistry from the University of Illinois and landing his first academic job as an assistant professor of chemistry at MIT.
In 1970, he was recruited by UMD to join professor Glen Gordon in the "ANE" (analytical, nuclear and environmental chemistry) group. Their pioneering studies laid the groundwork for the entire field of analytical capture-gamma spectroscopy, which bombards materials with neutron beams to identify and analyze trace elements.
Over Walters' 56-year career, his research focused on using measurements of radioactivity to gain insight into a range of phenomena like proton-neutron interactions, the orientation of individual nuclei and the creation of exotic elements in supernova explosions.
"I went where things were happening," he said. "You have to if you have a long career funded continuously by one agency. Well, it's changed names a number of times, but I've been continuously funded by the U.S. Department of Energy for 55 years."
Known for pushing the boundaries of nuclear analysis tools, Walters has been the spokesperson or co-spokesperson for multiple experiments at the National Superconducting Cyclotron Laboratory, Oak Ridge National Laboratory, Argonne National Laboratory and the Isotope mass Separator On-Line facility (ISOLDE) at CERN.
"Bill is a tremendously accomplished nuclear chemist whose work is very important to the fundamental understanding of atoms," said Janice Reutt-Robey, chair of UMD's Department of Chemistry and Biochemistry. "And he has quite a legacy as a professor, too. He mentored generations of nuclear chemists at UMD and developed courses that dealt with cutting-edge topics early in his career, like radiochemistry and nuclear chemistry in the atomic age, which are still popular classes today."
Of the 25 Ph.D. students Walters advised, many have gone on to hold leadership positions at universities and research laboratories around the world, including provost at Washington University in St. Louis, director of the University of Missouri Research Reactor, deputy director of Michigan State's facility for rare isotope beams, faculty members at Harvard Medical School, and staff scientists at Lawrence Livermore National Laboratory and the FBI.
His legacy spread far and wide through his students, but Walters is also a dedicated Terp who served on a variety of department- and university-level committees, including chairing the University Senate from 1999 to 2000. His family is also tightly tied to the university.
His wife, Barbara, has an M.S. in chemistry from the University of Illinois and has been lecturing and helping teach first- and second-year chemistry at Maryland for nearly five decades. In 1973, when the department needed teaching assistants (TAs), Barbara was home taking care of their two children, but decided to step up to help.
"When Bill came home and asked if I would come in and TA, I thought, that's just right," Barbara recalled. "I can teach a lab and a recitation and keep my hand in the field. That's how it started, and it's wonderful to have my life's partner as an office mate."
With Bill and Barbara both working in the department, it's no surprise both of their children landed at UMD as well. Their son David earned a bachelor's degree in economics in 1992 and one in chemistry in 1993. Their daughter, Kathy, worked at UMD's Career Center for a decade before succumbing to ovarian cancer in 2013.
Today, the Walters, who have lived in College Park for 50 years, are very active in their church and the Rotary Club of College Park and are strong supporters of the UMD School of Music, where Barbara serves on the board of visitors and sang in Paul Traver's University Chorus for many years.
Even though they're ready to retire, they don't plan to slow down. Bill expects to continue one of his favorite avocations as his family's genealogist, having made contacts with many first, second, third and even fourth cousins. And he intends to keep up with his collection of first-day U.S. and U.N. cover stamps, which are postal stamps that are officially franked on the first day the issue is authorized for use.
Before COVID-19 hit, they planned to travel to Italy, France, San Francisco and Florida—places where Bill was scheduled to give talks. But not all of their post-retirement travel will be centered around work. They have two round-the-world cruises scheduled for 2022 and 2023. On those trips, they plan to visit a number of former collaborators and students. It's an impressive roster of renowned scientists for a farm boy from Kansas. But it's no surprise given how broadly he cultivated his curiosity and tended the seeds of collaboration.
Written by Kimbra Cutlip