Senior David Rekhtman Embodies the Spirit of Maryland
The senior was a finalist for the university's prestigious Spirit of Maryland Award.
It was a regular Thursday morning for David Rekhtman until he opened his email and found out he had been nominated for the Spirit of Maryland award.
"It was a huge surprise to find out I was nominated because that's a type of award and recognition that no one thinks they deserve," said Rekhtman, a senior biochemistry and biological sciences double-degree student at the University of Maryland.
The Spirit of Maryland Award is presented annually, in lieu of a traditional homecoming king and queen, to two members of the senior class who, through their achievements, have most exemplified the "spirit" of the University of Maryland. Criteria for the award include outstanding scholarship, leadership, campus involvement, community service and communication skills. A committee composed of faculty, staff and alumni interviews students who are advanced to the final round of the application process.
While Rekhtman's nomination may have come to a surprise to him, it's easy to understand why he was chosen once you take a look at his accomplishments.
Rekhtman is the president of UMD's Omicron Delta Kappa leadership honor society; he is in the Honors College; he received the Nathan Drake Award, which recognizes an outstanding sophomore in chemistry or biochemistry; he has been a teaching assistant for chemistry, biological sciences and English courses; and he served in the Student Government Association, including being the College of Computer, Mathematical, and Natural Sciences' (CMNS) representative for two years.
Rekhtman also won the Library Award for Undergraduate Research for his work with Professor James Hagberg in the Department of Kinesiology. Rekhtman hopes to be a medical doctor in the future and found the research interesting and helpful for medical school applications.
"The research looks at the physiology that connects obesity to heart failure," he explained.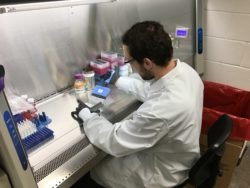 "What I did was look at the fat tissue surrounding the aortas of rats that had healthy hearts and the fat tissue surrounding aortas of rats that experienced heart failure and studied the intersection between the aorta and the fat tissue that surrounds it."
Rekhtman began this research his freshman year and has since had the opportunity to attend conferences and present posters on it.
"If you want to get involved with researchers, it can't hurt to email and show interest, because you never know what may happen," he said. "I would have never expected to be doing research in the Kinesiology Department, but it has been a great experience."
Rekhtman regularly gives similar advice to other students through his work as a student ambassador in the college's Reed-Yorke Health Professions Advising Office.
"The Health Professions Advising Office helps students who are on any pre-health track," he said. "We help them out with the stuff that we've gone through, like which classes to take or how to apply to medical school. The office is a great resource and has definitely helped me."
Although Rekhtman did not win the Spirit of Maryland Award, being named a finalist meant a lot to him.
"Being named a finalist was definitely an honor, and I know most of the other finalists and the winners through Omicron Delta Kappa, so I had the opportunity to congratulate them," he said.
Rekhtman feels the experiences he has had over the last four years as a student have helped him truly exemplify the "spirit" of Maryland.
"What the Spirit of Maryland means to me is learning about yourself through academics and through involvement. The chemistry and biochemistry department and CMNS in general have provided me opportunities to further my academics through both my major and the Honors College," he said. "CMNS also offers so many opportunities to do good, whether it's as a teaching assistant or as a volunteer in an organization. Those are the two main things of what the Spirit of Maryland means to me and I've been able to achieve both through the resources of the college."