Senior Crystal Li Prepares to Take Her Research to the Next Level
The fall semester was a busy one for senior Crystal Li. In addition to taking four 400-level classes–so that she could stay on track to earn bachelor's degrees in biochemistry and economics next spring–Li also worked in a research lab on campus.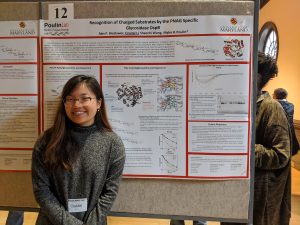 There, she has been studying the assembly and degradation of biofilms, which are slimy layers of bacteria that adhere to each other and to virtually any surface.
There is only one protein known to cleave biofilms, and Li and graduate student Alex Peterson are trying to learn more about it. Their goal is to find a mutation that will improve the rate that it cleaves biofilms or identify other proteins that can do a better job.
"Crystal works very independently for an undergraduate researcher and has been able to contribute to work that we published earlier this year and has made some pretty substantial contributions to a second paper that we're in the process of writing," said Li's research advisor, Myles Poulin, an assistant professor in the Department of Chemistry and Biochemistry.
This fall, Li presented her research at the Alliance for Diversity in Science and Engineering's Young Researcher's Conference and at the university's Bioscience Day event.
"She's able to speak up and show that she really understands the work that she's doing," Poulin added. "She understands the projects that she is working on and is able to defend that work, which is something that you don't always see in undergraduate researchers."
Li developed her love of chemistry in high school when she took an Advanced Placement chemistry course. It was fun for her and she was good at it, so selecting biochemistry as her major in college was an easy choice.
"I find it so exciting that it seems like you can never fully comprehend chemistry through and through," Li said. "The more specific you get there's so much more to learn."
Outside of the lab, Li is a member of the College Park Scholars Life Sciences program, the American Medical Student Association and Kharis Campus Ministry. She was also a member of the TerpThon finance committee.
Next spring, Li will continue her research in Poulin's lab to complete her departmental honors thesis, which involves conducting semi-independent research, writing a thesis on it and defending it. Following graduation in May, she plans to spend a year doing research while she applies to medical school. The research she conducted at UMD helped prepare her for these next steps.
"I now know how to approach research," she said. "I know how to problem-solve better, and I know how to analyze results. I didn't think that was something that I would be able to get to."