It's Amazing Work To Be On This Journey
Biochemistry alum Pavel Khrimian's biotech startup sets its sights on cancer and inflammatory diseases with an ambitious mission and next-generation technology.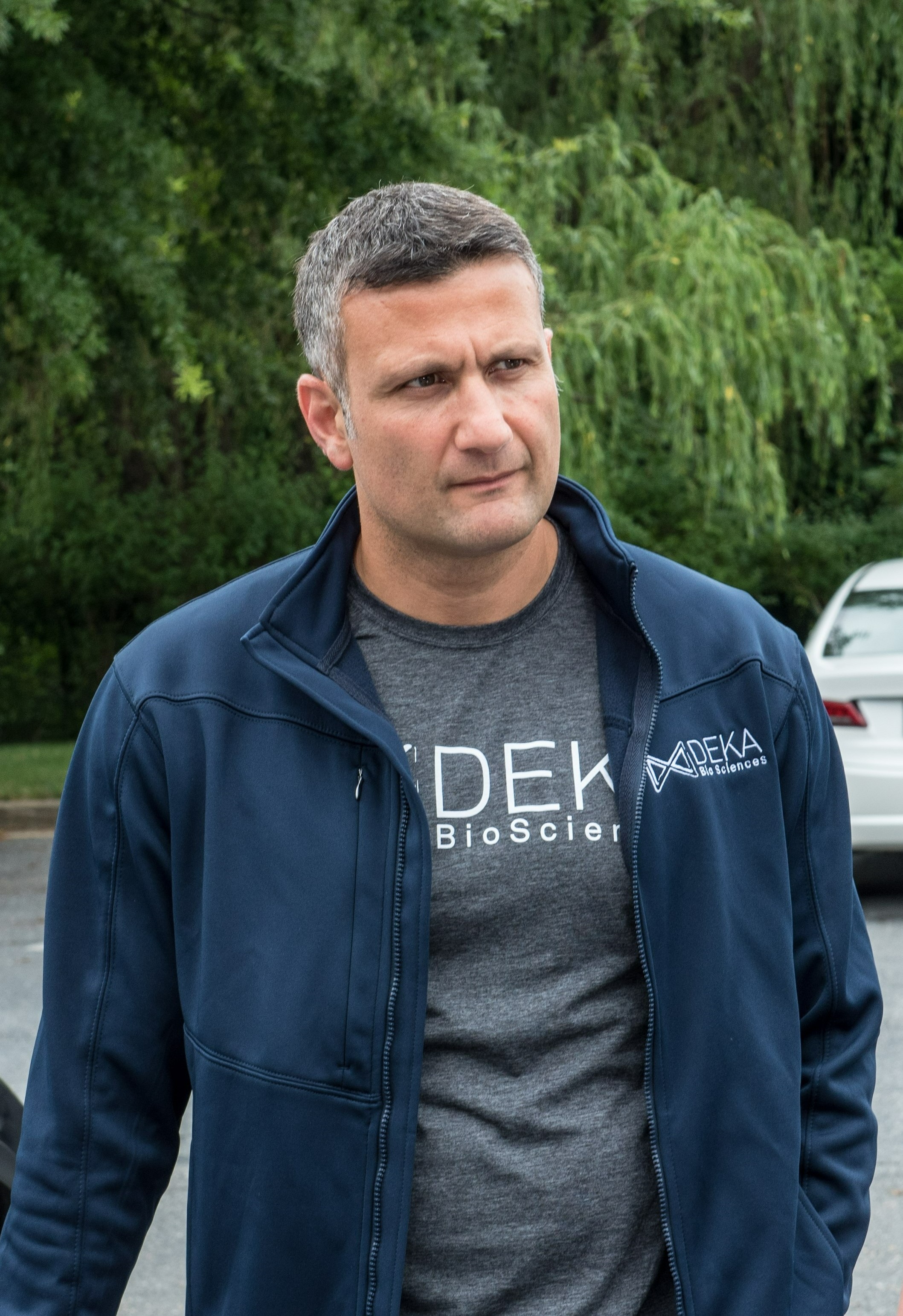 As a biotechnology business professional , Pavel Khrimian (B.S. '00, biochemistry) has never been one to shy away from a challenge. But his latest may be the most ambitious yet.
"We have this underlying mission and it's becoming more and more of a reality: we want to find a cure for cancer." Khrimian shared. "We know we can generate different therapeutics that can help a lot of patients." The company is also focused on finding therapies for inflammatory diseases such as Crohn's and psoriasis.
Four years ago, Khrimian and his entrepreneurial friend Dr. John Mumm, launched their startup Deka Biosciences in Germantown, MD, and in a very short period of time, they have come farther than even they could have imagined. In late 2021, Deka secured a $20M round of financing and in July 2022, the company broke ground on a brand new facility in Germantown which includes 14,000 square feet of office and lab space including newly designed Research and Development, Process Development, and Manufacturing facilities. 
Recognized in November 2022 as a finalist for the coveted Prix Galien USA awards, honoring innovators in the life sciences, Deka is on track to begin a phase one clinical trial of the company's novel cancer molecule early next year. Khrimian is thrilled—and a little stunned.
"I'm overwhelmed," he said. "To do what we do and to love doing what you do and have this dream that gets closer and closer to realization, where you can say that's not a dream that's a reality. It's amazing work to be on this journey."
An early interest in medicine
The son of two accomplished chemists, Khrimian lived in Armenia until he was 14, when his father accepted a position at the U.S. Department of Agriculture and moved the family to Maryland. A move that Khrimian is forever grateful. It was not apparent at the time, but it was this move that sparked the journey. Khrimian learned English quickly, dedicating himself to his studies and excelling in math and science. He also developed an early interest in medicine, because his passion for playing sports frequently landed him in the emergency room.
"I was always riding bikes, playing sports like any other kid, and I was in and out of the ER with broken arms and other injuries throughout my childhood," he recalled. "That sparked this interest, this fascination with people who were trying to help other people. Doctors were people I always idolized."
Inspired by those experiences and by his parents, Khrimian's love of chemistry and biology grew during high school and Maryland began to feel like home. But just as Khrimian was preparing to start college, his family moved again, this time to South Carolina. To stay close to his parents, Khrimian enrolled at Clemson University, majoring in biochemistry.
After three years at Clemson, Khrimian decided to transfer to the University of Maryland. He was anxious to take advantage of UMD's world-class biochemistry program and connect with the wealth of nearby opportunities in medicine and biotech.
"The rigorous UMD coursework and loading myself up with a bunch of scientific courses, that was one thing. The other was knowing that I had to step into the health care world soon," Khrimian explained. "I was able to work part time at a hospital as well as a biotech company that year and that was pivotal because I really wanted to figure out where my education was going to take me."
Khrimian's interest in research eventually propelled him toward biotechnology. After graduating in 2000, he landed a full-time job at a small Rockville, MD startup.
"It was a therapeutic screening company," he said. "My role predominately was in the molecular biology lab utilizing some of the then-current tools to advance drug development."
Three years later, Khrimian moved on to BioReliance, where he became a senior project manager. There he worked with pharmaceutical companies and pursued his growing interest in the business side of the biotech world, eventually earning his MBA from Johns Hopkins University.
"I had really started to expand my skill set into project management, managing complex programs for the biopharma industry," he explained. "I realized I needed to get my master's because that would allow me to better understand the industry and the financial and business applications."
Building an artillery of skill sets 
In 2011, after spending several years supporting the biopharmaceutical industry, Khrimian finally joined a pharma group himself. His work as associate director of partnering and strategy at MedImmune/AstraZeneca took his knowledge—and his interest in the business side of pharma—to the next level.
"When you're in this scientific biotech biopharma track, the pharmaceutical industry is always something you look at because they're the ones that really blow the doors open, anywhere from research to development to manufacturing supply chain, and commercialization of novel therapeutics," he said. "I started to add to my artillery of skill sets and experiences there and that really evolved into a business development role."
As Khrimian's skill set grew and his career progressed, an idea percolated in the back of his mind.
"All of these experiences from college to MBA to stepping into the career world, changing jobs, the cumulative impact of all that was fueling this curious mind of mine," he recalled. "I said, 'What if I could do this on my own, what if I could start my own business?'" 
Khrimian's thoughts catalyzed into action when he met Mumm, an incredible scientist and a serial entrepreneur who was no stranger to breakthrough research and turning his research into cancer drugs. In late 2018, the two launched Deka Biosciences, and since then they've worked to create a new generation of medicines called Diakines™ along with precision medicine strategy  to identify patients that would best respond to the Diakines™. For Khrimian and Mumm, it's more than a business plan—this mission is personal.
"My co-founder had eight members of his family that suffered from cancer and some of them lost the battle, so he has this underlying passion to find a solution," Khrimian said. "I have had friends and family members plagued by cancer as well, some were lucky, some were not."
Now, Khrimian believes his growing startup is on a path to a cure. 
"We have 6,000 square feet of lab and office space, we are doing active research and development, and we are learning more and more about our Diakines™ every day ," Khrimian explained. "We have a robust preclinical package that shows the molecule's efficacy, safety and manufacturability, and early next year we'll initiate phase one clinical trials for our lead oncology molecule."
Deka's next-generation research is focused on cytokines, small proteins secreted by the immune system to modulate disease or infection. 
"We're the first in the world to bring two cytokines together in a unique way to achieve a  desired function," Khrimian noted. "One arm of our company is all about bringing the right cytokines together to stimulate the immune system to fight cancer."
Deka's other cytokine-based research targets inflammatory diseases.
"We're using different sets of cytokines to downregulate the immune response," Khrimian explained. "When the immune system overreacts, we have the molecule to bring it down to homeostasis, to tell it everything is ok, so patients are not experiencing this heightened inflammatory burst."
Through it all, the primary focus is the patient.
"No patient will be left behind, that's the underlying passion of this company," Khrimian said. "We are here to do something that's never been done before, and we have very strong data to show we are doing something very different both in cancer and in inflammatory diseases."
Khrimian knows the path he has chosen with Deka isn't an easy one, but the years have taught him to believe—not just in the mission, but also in himself.
"I am an entrepreneur at my core, everything about me follows the science," he said. "We have a very strong CEO who is just a fantastic scientist and leader.  We also have a team of 23 employees united around our cause. I believe in them, and they trust me to behave as a leader, to  be persistent and positive, and to continue to light that torch. I take that responsibility very seriously and I'm going to keep doing that as we work together to fulfill our mission."