Hakeem Henry Focuses His Energy on Building a Better Battery and Student Community
If your power drill goes dead in the middle of a project or your bike light craps out a mile from home at night or your phone goes belly up on a flight with no power outlet, you might become frustrated. But Hakeem Henry sees it as an opportunity.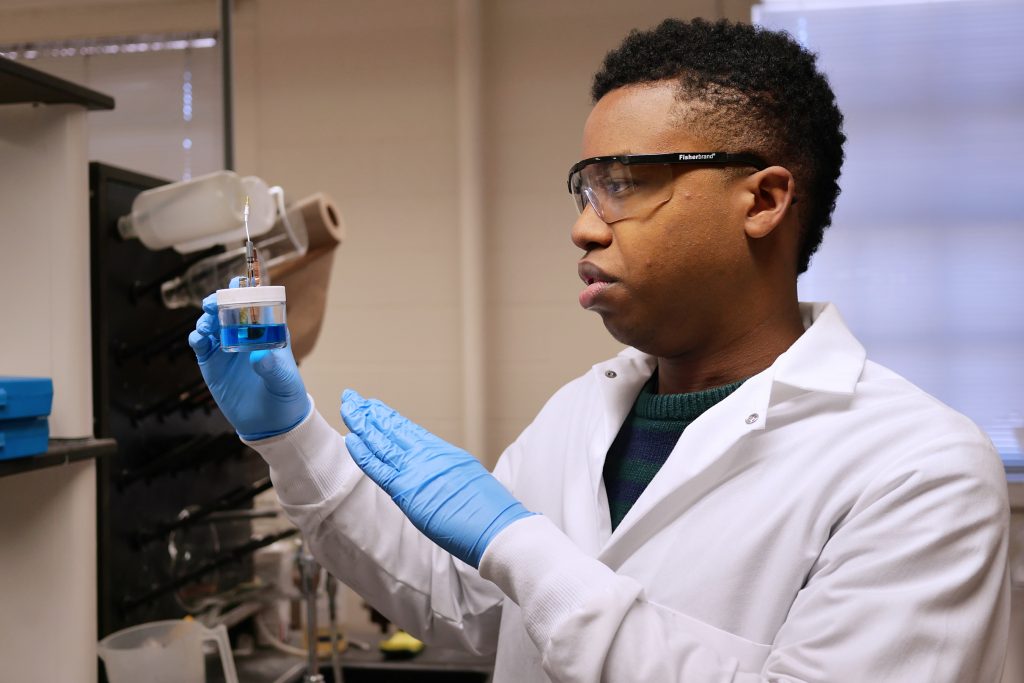 A chemistry Ph.D. student in Professor Sang Bok Lee's research group, Henry conducts energy storage research focusing on lithium- and magnesium-ion batteries.
Society is "shifting more and more to electric energy so we need more energy-dense batteries to power this future," Henry said. "We are trying to develop materials or learn about new materials or new structures that can improve state-of-the-art, conventional lithium-ion batteries or go beyond them." 
That research is what led Henry to Maryland in 2015. His undergraduate research advisor at Binghamton University encouraged him to find a graduate program with faculty members doing research he was interested in. He looked into UMD, saw Lee's work on nanostructures for electrochemical energy storage and decided to apply. 
Henry, who received his bachelor's degree in chemistry, has always been interested in science, and he became interested in chemistry after taking an honors course in high school. 
"I like the application of chemistry. You can learn the theory and take it and apply it to real-world situations," he said. "Once you know chemistry, you see it everywhere in the world."
In 2016, Henry was named a Milligan Fellow, an award for graduate students in the Department of Chemistry and Biochemistry that includes an annual stipend (currently $34,000), tuition remission, and an internship at the National Institute of Standards and Technology (NIST). The fellowship—which is supported by the department and NIST's Chemical Science and Technology Laboratory—granted him the opportunity to concentrate on his research, he said.
Henry is also working on developing and characterizing positively charged electrodes, known as cathodes, for magnesium-ion batteries. 
"I use mainly electrochemical techniques to both synthesize the cathode material and then test it to determine its properties to see if it's a good material for batteries," said Henry, who has drafted two manuscripts and is currently in the process of submitting one on this work.
Magnesium-ion batteries have the potential to be cheaper, be safer and deliver nearly twice the volumetric capacity than lithium-ion batteries, he said.
"It's nice to be able to contribute to the scientific field, especially in a region that's so needed," Henry added. "We know why we need better batteries, more energy-dense batteries. The application is clear. I'm proud to be a part of that research."
He's also proud of the community he has been helping to grow in the department as president  of UMD's chapter of the National Organization for the Professional Advancement of Black Chemists and Chemical Engineers, also known as NOBCChE.
"The focus of the organization is to try and establish a support group—a network that will help students proceed through their educational careers, especially graduate students because graduate school is difficult and it's very difficult to go through alone," Henry said.
Henry learned about NOBCChE from previous UMD chapter president Marcus Carter. Following the graduation of several members, Henry and a few of his classmates revitalized the chapter, which currently has about 10 student members. 
"We've had invited speakers come and speak on topics that graduate students could be experiencing or dealing with, like imposter syndrome, burning out in grad school and how to revamp and re-energize yourself," Henry said. "We've also done a significant amount of outreach and recruiting for the department's graduate programs."
The group has gone to the NOBCChE national conference and taken trips locally to Bowie State University and Howard University to recruit undergraduate students to apply for UMD's graduate program. 
"Our goal is to ensure the retention and success of students within the department by serving as a professional network and a social community to those who need it," Henry said.