The Chemistry of Candy
Color chemist Rebecca Robbins' (Ph.D. '95, chemistry) sweet success story at Mars Wrigley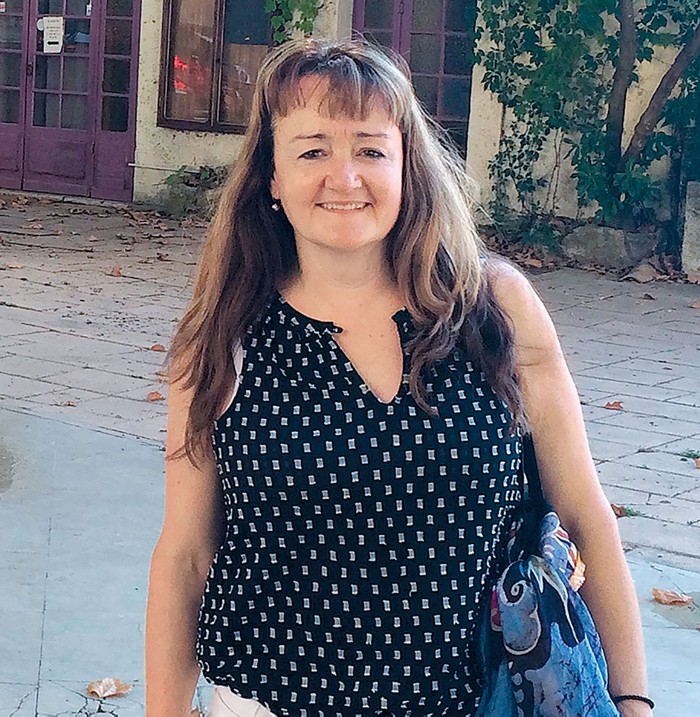 When you rip open a bag of M&M'S®, chances are you don't immediately think of chemistry. But Rebecca Robbins does. For 17 years, as color chemistry manager and senior principal scientist at Mars Wrigley, Robbins has been a key player in research and product development for one of the largest treats and snacks companies in the world. For much of that time, her work has revolved around those shiny little candies with the M'S.
"In my time at Mars Wrigley I've mainly worked on our iconic M&M'S® brand, though I've touched many other products and programs as well," said Robbins (Ph.D. '95, chemistry). "I've often thought as I was walking into work in the mornings, how many people in the world get to help design the colors for confections we all know and love? Not many."
"The curiosity of a scientist"
Robbins' interest in science goes way back to her childhood, which she describes as "a bit nomadic."
"I grew up in the Charleston, South Carolina, and Massachusetts and spent quite a bit of time in Southern France and a few other places," Robbins recalled. "My French instructors mentioned to me once that I had a natural inclination and curiosity of a scientist, but it didn't quite register until much later."
Growing up and going to school in the U.S. and in Europe, Robbins studied a wide range of subjects, from language and literature to art. Her major as an undergrad at Brooklyn College was philosophy, but she eventually realized that what really came naturally to her was chemistry.
"It was in my last year that I took organic chemistry and just loved it," Robbins said. "Organic chemistry was natural—one of the most artistic of sciences with all the 3D drawings and conceptual in the explanation of the behavior of the molecules. I realized that I wanted to pursue an upper-level degree in chemistry, organic chemistry to be specific. Deep down I was such a novice, I didn't know what I was going to do—but I knew that I wanted to use my degree for something more natural."
She was drawn to Maryland thanks to family in the area, including an uncle who was a scientist at the National Institutes of Health in Bethesda. When she arrived at the University of Maryland hoping to pursue her Ph.D. in chemistry, she had some had some catching up to do.
"I had not been a chemistry major, but when I went to inquire at the chemistry department, I was welcomed," Robbins recalled. "The advisor suggested that I spend a year taking all the chemistry courses I needed to catch up, and if I demonstrated that I could succeed in those classes I would be accepted into the program."
"Intrigued and curious"
After a challenging year taking courses in analytical chemistry, organic chemistry and more, Robbins landed a summer job working in Professor Daniel Falvey's lab.
"He gave me a cool project that involved electrochemistry and a cyclobutane ring," Robbins recalled. "The project involved light chemistry, understanding mechanisms, organic chemistry, laser flash photolysis and electrochemistry. It was simple and yet complex and kept my mind intrigued and curious."
That experience opened Robbins' eyes to a world of possibilities. She became a teaching assistant and was surprised to discover how much she loved teaching, and in Falvey's lab, she saw chemistry in ways she never imagined. 
"His research involved biochemistry, organic chemistry synthesis, electrochemistry, nitrenium ion chemistry, photochemistry," Robbins said. "We touched on so much in his lab that I felt I was getting an education in multiple disciplines. It made it a lot of fun."
After receiving her Ph.D. in 1995, Robbins went to Tulane University for two years as a postdoc. Then, in 2000, she became a visiting assistant professor of chemistry at Vassar College.
"I really liked it," she said. "But then one day a student asked me, 'What can I do with a degree in chemistry?' I remember reflecting on this and telling myself that I needed to expand my work experience to be a better teacher, advisor and guide for students. I thought I needed experience in a government institution and in the industry setting as well."
To get that experience, Robbins joined the U.S. Department of Agriculture's Agricultural Research Service as a research scientist. Working in the Food Composition Laboratory there, Robbins developed analytical methods to extract and quantify phenolic acids in foods. She quickly discovered that with her background in organic chemistry, this kind of research was a good fit.
"There is a large amount of science in food—like texture, stability, flavor and safety," she said.  "Food is natural, and it's fun, down-to-earth and relatable. It is, of course, very complex and because of this the tools one needs to learn are different—but it's fun."
In 2004, Robbins moved on to Mars Wrigley, a company known for making treats and snacks for more than a century. Early on, Robbins' work focused on flavanols, which are naturally occurring antioxidants in chocolates, and developing analytical methodology on naturally occurring compounds.
"Mars has a vast program on cocoa flavanols, which was of interest to me from my previous role," Robbins explained. "Mars Wrigley has always been interested in strong science. And exploring the naturally occurring molecules in chocolate is part of the science."
Finding a natural blue 
Over the years, Robbins' role at Mars Wrigley has involved managing internal product development research and working with external research partners at universities around the world. But her game-changing contributions came as a color chemist, developing new ingredients for a wide range of products.
"I worked on taking natural colors and figuring out how to make them work in our products," Robbins explained. "Natural colors are not stable in all matrices. So we're leveraging the wonderful versatility of anthocyanins colors and applying them in some of the products in our portfolio."
In the chemistry of candy, there are always challenges—like finding a natural replacement for the unique blue hue of those brilliant M&M'S®. (Trivia experts may know that blue was "elected" as a new color for M&M'S® in 1995.) In April 2021, after years of research, Robbins and her team found the answer.
"Published in the journal Science Advances, our work helped find a solution to the long-standing blue dye challenge in the food industry," Robbins said. "After many years of hard work, we discovered a unique anthocyanin, a type of naturally occurring pigment in red cabbage that provides a natural alternative to artificial colorants."
The unique challenges of working in color chemistry and in confectionery have kept Robbins interested and engaged for nearly two decades. So has her interest in art. 
"I am an artist in my spare time," she explained. "This is another expression of my love for color. Also, art is in my genes—my sister is a world-accomplished artist, and my mother was an artist as well."
For Robbins, it's also fun when art and science intersect.
 "I have been playing with art and colors for a great deal of my life and the fact that I got to do it as a scientist at Mars Wrigley is really a gift."
Looking back, Robbins appreciates the impact UMD had on her life.
"I learned why and how things work—the organic chemistry mechanisms," she said. "By asking questions and understanding organic chemistry in a fundamental way, I can solve large technical challenges and act as an advisor and consultant in many areas of food, flavor and color chemistries. Knowledge of organic chemistry has been my treasure. What I learned at UMD shaped my entire career."
And Robbins' passion for organic chemistry is still a part of everything she does.
"When I go for a walk in the woods or think about the chemistry of colors or ingredients in confectionery, I think of the molecular makeup from an organic chemistry perspective," she said. "I joke around and say I see molecules everywhere—it is a filter of my world." 
Chemistry and candy may not seem like the most obvious combination, but for Robbins, it's become a sweet formula for success.
"I love the natural aspect to it, I love the organic chemistry of it, and I like our products for 
sure—my favorites are SNICKERS® and Peanut M&M'S®," Robbins said. "It just turns out that the projects I work on and the company itself are a lot of fun."

Written by Leslie Miller