Celebrating Black History Month with an Inspirational Terrapin
Jacqueline Smith (Ph.D. '11, chemistry) dedicates herself to drug discovery and diversity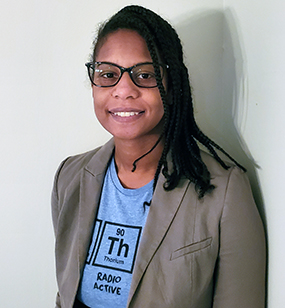 For some people, going to college and graduate school is about finding an academic path to a future career. But Jacqueline Smith (Ph.D. '11, chemistry) had something bigger in mind.
"I talk about this with my friends all the time," Smith said. "What are we doing to make a difference?" 
For the last several years, Smith has dedicated herself to doing just that. As an organic chemist, she's taking on a tough, but critically important, challenge—investigating small molecules that can be used to treat breast cancer, especially devastating cancers that are resistant to traditional treatment.
"We need to think about what's next after the Tamoxifen or the first-line treatments for breast cancer," Smith said. "I'm synthesizing molecules to target a protein in cells called VCP, which upregulates in resistant cancers." 
Though Smith is an accomplished chemist who has co-authored numerous peer-reviewed publications and holds two U.S. patents, research is only part of her mission. In her role as an assistant professor in the Department of Natural Sciences at Bowie State University—one of Maryland's four historically Black colleges and universities (HBCUs)—she spends countless hours mentoring the next generation of Black scientists and creating research opportunities where they can grow. Whether it's offering lab internships to local high school students or providing support to the young men and women in her chemistry classes, Smith draws from her own experiences to help students of color succeed.
"I think it encourages them," Smith said. "I hope it inspires them to just realize there's no limitation to what they can study and what they can achieve."
Growing up with science
Smith grew up in Prince George's County, Maryland. Her mother, a teacher, was a big influence.  
"My older siblings were out of the house by the time I was leaving elementary school, so I was definitely spending a lot of time with mom," Smith explained. "As a teacher, she always had a math book for me to work on to keep myself busy while she was doing whatever she was doing, like getting groceries or attending church."
Smith quickly developed an interest in math and science.
"I loved math and as I progressed in my early education I saw the application of math to science," she said. "My elementary school was right next door to the Owens Science Center so I was immersed in science early on and just had a knack for it.
As a teenager, Smith attended Eleanor Roosevelt High School, where the academic focus on science and technology fueled her curiosity even further. She explored various aspects of science and engineering, culminating in senior-year internship at the U.S. Department of Agriculture's Systematic Entomology Laboratory.
Moving on to the University of Maryland, Baltimore County (UMBC), Smith majored in chemistry and received a highly selective Meyerhoff Scholarship, which aims to increase diversity among future leaders in STEM fields by putting them on a path to a research-based Ph.D. But even as she excelled at UMBC, Smith realized something was missing: more students like herself.  
"At first it didn't really occur to me, but I soon realized I was one of just two Black chemistry majors and I was the only Black woman," she said. "I did get that sense that this field really lacked diversity."
That didn't make being a student any easier.
"Sometimes it became a little bit awkward because people didn't really know your identity, you would get called another Black student's name and they didn't understand how something like that can affect you," Smith recalled. "Having to earn your way, to prove that you belong there is not the best situation."
Diving deeper into drug discovery
No matter the challenges, Smith was determined to succeed. Working on her Ph.D. at the University of Maryland, College Park, she conducted research on bacterial-resistant agents with Herman Sintim, an award-winning Black chemist, and boosted her confidence further by joining NOBCChE, the National Organization for the Professional Advancement of Black Chemists and Chemical Engineers, which had a very active chapter in the UMD Department of Chemistry and Biochemistry.
"I was like, 'OK, here are examples of where you can succeed in chemistry,'" Smith said. "I knew I needed to find the right people to support me and also people who believed in me because I was really excited about science and I didn't want some other factor to deter my path."
After earning her Ph.D. in 2011, Smith became a postdoc at Georgetown University, diving deeper into drug discovery. During that time, she heard about a young mother from her church who had lost a heartbreaking battle with breast cancer. Smith was driven to find an answer. 
"At the time I thought we already had treatments for breast cancer, and I had known people who had survived, but this young lady, she got well first, but then she kind of relapsed and went downhill," Smith recalled. "As I started learning about how this resistance happens, how these relapses occur, it drove my passion to develop some second-line or third-line therapy or whatever we need to do to have treatments for these diseases."
Making an impact
In her five years at Georgetown, Smith identified a protein that showed promise. Then, knowing that she wanted to continue her research but also make a difference in the classroom, she accepted an assistant professorship at Bowie State in 2016. 
"I said, 'OK, let's see how I can make an impact at an HBCU,' and that's what I've been trying to do ever since," Smith said.
In the last five years, Smith has made significant progress in expanding undergraduate research opportunities in her department, while advancing her own work developing small molecule therapeutics and bioanalytical tools for drug delivery.
"My research is still spot on with drug discovery," she explained. "I'm targeting this protein VCP with small molecules I am synthesizing through a microwave-assisted reaction, a one-step reaction. We've sent compounds out for testing against VCP and we're just waiting to hear back and see if they're effective.
In the lab and in the classroom, Smith shares a history and a passion for chemistry that many of her students can relate to, as well as a commitment to making every student feel valued and appreciated. That sense of belonging resonates with her as well.
"What I like about being at an HBCU is I can just be myself, and I think the students really connect with that," Smith said. "We have similar backgrounds, so I can kind of relate to them, boost their confidence, encourage them to take on that next challenge. I think we have to be intentional about diversity and inclusion and I am trying to do my part as an individual as much as I can."And Smith says she's just getting started.
"I am proud of myself," Smith reflected. "Looking back reminds me of some of the things that I have accomplished but I see that there's more work to be done. I definitely feel like I have more to give and hopefully I'll be able to really impact the field and science in general over my career."
Written by Leslie Miller