Biochemistry BS Alum Unlocks Mysteries of Cell Communications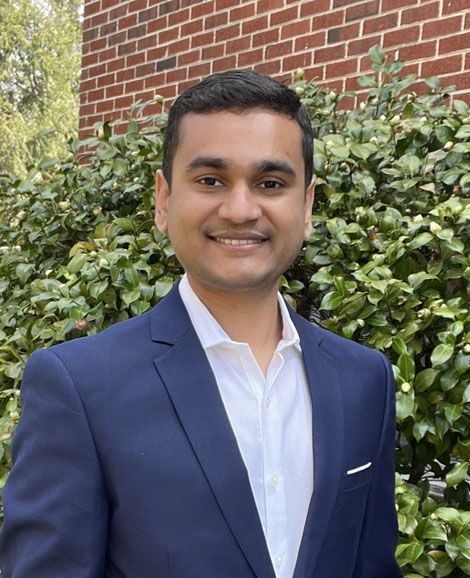 Akshay Patel took a giant leap of faith in 2014. Motivated by his interest in cell biology and inspired by what he read about the cutting-edge research underway at the University of Maryland, Patel journeyed thousands of miles from his home in India to UMD for college, hoping to lay the groundwork for his future career as a scientist.
"I wanted to do something different, and this definitely was," explained Patel (B.S. '18, biological sciences and biochemistry). "This was the first time I was away from home, the first time away from my parents, and even though I have some family in Maryland, it was really just me." 
Nearly a decade later, Patel's big leap has taken him a long way. In 2022, as a biological sciences Ph.D. student at UMD, he contributed to the discovery of a novel mechanism of asymmetric signaling in stem cells that led to his first-author paper in the high-impact journal Nature Communications. Since then, he has received several awards including the Andrew J. Moyer Outstanding Graduate Student Award, a UMD fellowship established in 1977 to honor outstanding graduate students in the Department of Cell Biology and Molecular Genetics. For Patel, it all means his hard work is paying off.
"I definitely didn't expect to be at that level but winning the award means a lot to me," he said. "It's very rare in your career that you feel like you have achieved something. It also says that the school and the department appreciate my efforts and the research that I do."

A boundless curiosity
Drawn to biology and chemistry as a young student in India, Patel had a boundless curiosity about living things and life processes. By the time he was a teenager, his career goals started coming into focus.
"I knew I didn't want to become a medical doctor, I was more interested in research," Patel said. "I wanted to find why things work the way they do, what makes us alive, how different proteins work, how they interact. To answer those questions, I had to do something research-related, and UMD was a good place to get started."
Soon after Patel arrived at UMD as an undergrad, he met Cell Biology and Molecular Genetics Associate Professor Sougata Roy, and as Patel learned about Roy's research in cell communication, he knew he found his calling. Patel joined Roy's lab at the beginning of his sophomore year.
"Dr. Roy works with Drosophila, basically fruit flies, and we study cell-cell communication because it's an essential part of life," Patel explained. "Working in his lab as an undergrad, I was exposed to all these different molecular biology techniques—like cloning and PCR and screening different fly phenotypes—that exposed me to genetics, which was an area that I absolutely loved. I was like, 'Yes, I definitely want to pursue research in this field because this is where I belong.'" 
Akshay has contributed to Roy's research and co-authored a 2017 publication in the journal Developmental Biology.
After earning his undergraduate degree in 2018, Patel decided to take his work in cellular communication even further, focusing on the role of fibroblast growth factors (FGFs), which regulate development processes in living organisms, and how signals are transferred from one cell to another in a specific niche or microenvironment.
"We study two Drosophila FGFs that bind to a specific receptor," Patel said. "And both of these FGFs are involved in several aspects of development, like muscle and neuro-glial development. These are pretty important FGFs that control a wide variety of things in humans as well."
For Patel, the research is fascinating—and very demanding. A regular routine of hiking and biking around College Park and the D.C. area help him keep his life and his research in balance.
"For any Ph.D. student, if you just work 24 hours a day, you'll definitely get frustrated," Patel noted. "I hike or go for evening walks and bikes around College Park on the trails just to de-stress and freshen my mind. And I found it really helps."
Patel also found that mentorship and support from Roy made a world of difference, helping him keep his research on track.
"We've definitely had our ups and downs," Patel recalled. "I do remember times when certain experiments didn't work, and he played a huge role in guiding me and shaping how to address different questions, and that's a big thing. He was there pulling me up when something didn't work and encouraging me to try new things and not give up. It's important to have someone like this to make you a better scientist."

Persistence pays off
Patel's persistence eventually paid off. His research yielded important discoveries about how directed transfer of FGFs from a few localized cells allows naive stem cells to respond to their environment and differentiate to sculpt highly ordered 3D tissue architectures. Even Patel was surprised by what he accomplished.
"I was dumbfounded," he said. "Conventionally, what these FGFs are known for is that a cell makes them and they're just freely secreted, but what I found was that they're not secreted freely. Instead, the stem cells have to physically touch the FGF-producing cells by using long protrusions named cytonemes to receive these signals in a directed manner, rather than just taking up signals from the extracellular surroundings. Basically, this mechanism of signal exchange gives the receiving stem cell a directional sense as well as instructions like 'the signal is this way, point in this direction, touch the cell in this direction, or grow in this direction.' My discovery basically connects the two dots—how signals are transferred from one cell to another and also how signals can give cells a sense of direction."
To Roy, Patel's discovery was nothing short of amazing.
"Akshay singlehandedly established and characterized a completely new model system for the stem cell niche by combining complex genetics, molecular biology and various microscopy techniques. With this new model system, he discovered a previously unknown mechanism of asymmetric signaling and organization in the stem cell niche," Roy noted. "To me, such paradigm-shifting discoveries and fundamental contributions to the field are rare achievements for a young Ph.D. student."

Making a difference
Patel's research has a variety of potential applications from therapeutics to tissue engineering.
"The paper was a pretty big contribution to the field because the field of FGFs is very hot right now," Patel explained. "This mechanism of FGF communication is a very good target for drug discovery related to cancer treatment and chemotherapy. It could also be important in tissue engineering—a major focus right now is how to make tissues in a petri dish. If you have a bunch of undifferentiated cells and you want to put them in an organized pattern to build a functional tissue, it's important that these signals are received in a proper way. "
With plans to finish his Ph.D. over the next several months, Patel is looking ahead to the next stop on his research journey—a career in the biotech or pharma industry. Whether it's in drug discovery or another area like cell therapies or vaccine research, his biggest goal is to make a difference.
"As a grad student who will become a scientist soon, my goal is pretty broad right now, it's to change people's lives or better people's lives," Patel reflected. "That's the whole point of doing research—helping others. You find something that will relieve someone's pain or a medicine that fights cancer. So, my goal 10 or 20 years down the line is to be a person who has discovered something that has that kind of impact."
---
Written by Leslie Miller