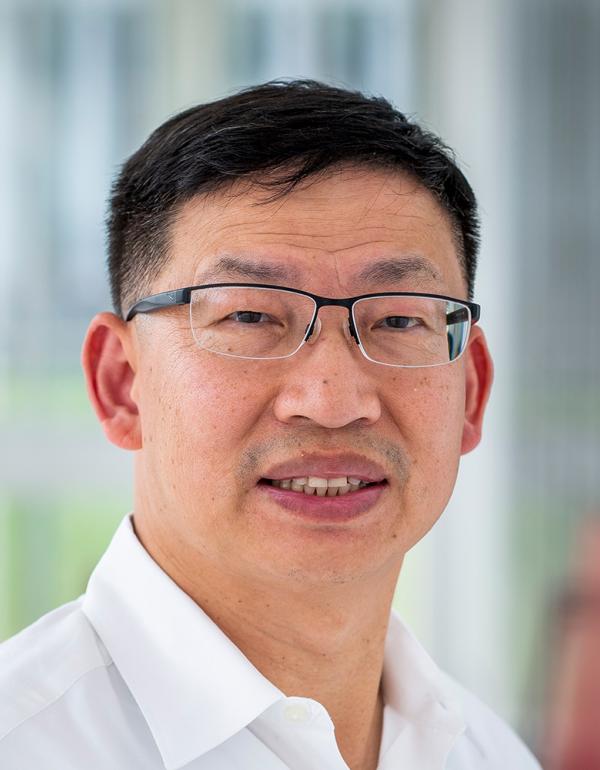 Contact Info
Office: 3500A CHM
Phone: 301-405-7527
Lai-Xi Wang
Distinguished University Professor
Education
Ph.D., Shanghai Institute of Organic Chemistry, Chinese Academy of Sciences, 1991
Postdoctoral Fellow, Johns Hopkins University, 1994
Postdoctoral Research Associate, Massachusetts Institute of Technology, 1997
Professional Experience
Distinguished University Professor, Department of Chemistry and Biochemistry, University of Maryland, College Park, 2023-
Professor, Department of Chemistry and Biochemistry, University of Maryland, College Park, 2015 – 2023
Professor, Institute of Human Virology, University of Maryland School of Medicine, 2009-2014
Professor, Department of Biochemistry & Molecular Biology, University of Maryland School of Medicine, 2009-2014
Associate Professor, Department of Biochemistry & Molecular Biology, University of Maryland School of Medicine, 2007-2009
Associate Professor, Institute of Human Virology, University of Maryland School of Medicine, 2005-2009
Assistant Professor, Institute of Human Virology, University of Maryland, 2000-2005
Postdoctoral Research Associate, Massachusetts Institute of Technology, 1997-2000
Postdoctoral Fellow, Johns Hopkins University, 1994-1997
Faculty Member (Assistant Professor 1991-1992; Associate Professor, 1992-1993), Shanghai Institute of Organic Chemistry, Chinese Academy of Sciences, 1991-1993
Research Interests
Bioorganic Chemistry; Synthetic Carbohydrate Chemistry; Glycobiology; Enzymology; Molecular Biology; Immunology
Professional Societies
American Chemical Society; American Association for the Advancement of Science
Major Recognitions and Honors
The Dean's Award of Excellence in Teaching, the College of Computer, Mathematical, and Natural Sciences (CMNS), University of Maryland College Park, 2020
ACS Fellow, American Chemical Society, 2019
AAAS Fellow, the American Association for the Advancement of Science, 2014
Melville L. Wolfrom Award in Carbohydrate Chemistry, American Chemical Society, 2014
Inducted to the Johns Hopkins University Society of Scholars, 2009,
Young Investigator Award in Carbohydrate Chemistry, Division of Carbohydrate Chemistry, American Chemical Society, 2004
Predoctoral Scholarship, the Institute of Physical & Chemical Research (RIKEN), Wako-Shi, Saitama, Japan, 1988-1991
Significant Professional Service and Activities
Associate Editor, Carbohydrate Research, 2020
Chair-Elect, Chair, and Immediate Past Chair, Division of Carbohydrate Chemistry, The American Chemical Society, 2015-2017
Chair, The Gordon Research Conference (GRC) on Carbohydrates, 2017
Member, the U.S. Advisory Committee for International Carbohydrate Symposia (ICS), 2016
Member, the Scientific Advisory Board, the Canadian Glycomics Network, 2015-present
Vice Chair, the Gordon Research Conference on Carbohydrates, Dover, VT, 2015
Co-organizer, CELL/CARB joint symposium on "Frontiers in Glycoscience", 249th ACS National Meeting, Denver, Colorado, 2015
Session Chair, NIH workshop on "Explore the frontiers of chemical glycoscience", Bethesda, MD, 2014
Member, NIH site-visit review panel, evaluation on P41 Biomedical Technology Research Resource, University of Georgia, Athens, Georgia, 2014
Member, NIH BCMB Special Emphasis Panel, 2013
Member, Faculty of 1000 (F1000), Chemical Biology, 2012-present
Organizer, symposium on "Carbohydrates in Drug Discovery". The 43rd ACS Middle Atlantic Regional Meeting (MARM), Baltimore, MA, 2012
Co-organizer, symposium on "Carbohydrate-mediated Host-Pathogen Interactions and Their Interventions". the 243rd ACS annual meeting, March 25-29, San Diego, CA, 2012
Session Chair, Interfacing Functional Glycomics with Immunobiology of Infections, Functional Glycomics in HIV Vaccine Design, Bethesda, MD, 2012
Member, site-visit review panel, evaluation on Chemical Biology Laboratory, NCI/NIH, 2012
Session Chair, NIH/FDA Glycoscience Day Symposium, 2011
Co-organizer, symposium on "Synthetic oligosaccharides and glycoconjugates for preventing and combating diseases". the 240th ACS annual meeting, Boston, MA, 2010
Co-Director, Baltimore-Washington DC Area Glycobiology Interesting Group (BWGIG, formerly JHUGIG), 2010 – 2016
Member, the Editorial Board, Carbohydrate Research, 2009-2019
Chartered Member, NIH Synthetic and Biological Chemistry (SBCA) Study Section, 2008-2012
Member, Greenebaum Cancer Center, University of Maryland, 2007 – present
Member, NIH BCMB Special Emphasis Panel, 2006-2007
Ad hoc Member, NIH Synthetic and Biological Chemistry (SBCA) Study Section, 2005-2007
Executive Editor for special issues, Current Pharmaceutical Design, 2004-2007
Students Mentored
Dr. Wang has mentored 25 postdoctoral fellows, 10 Ph.D. graduate students, and 16 undergraduate students for their research.
Selected Publications
1. Chen, X., Shi, M., Tong, X., Kim, H. K., Wang, L. X., Schneewind, O., Missiakas, D., "Glycosylation-dependent opsonophagocytic activity of Staphylococcal protein A antibodies", Proc. Natl. Acad. Sci. USA., 117, 22992-23000 (2020).
2. Dai, Y., Hartke, R., Li, C., Yang, Q., Liu, J. O., Wang, L. X., "Synthetic fluorinated L-fucose analogs inhibit proliferation of cancer cells and primary endothelial cells", ACS Chemical Biology, 15, 2662-2672 (2020).
3. Wang, L.X., Tong, X., Li, C., Giddens, J.P., Li, T., "Glycoengineering of antibodies for modulating functions", Annual Review of Biochemistry, 88, 433-459 (2019).
4. Giddens, J., Lomino, J.V., DiLillo, D.J., Ravetch, J.V., Wang, L.X., "Site-specific chemoenzymatic glycoengineering of Fab and Fc glycans of a therapeutic antibody", Proc. Natl. Acad. Sci. USA, 115, 12023-12027 (2018).
5. Li, C. and Wang, L.X., "Chemoenzymatic methods for the synthesis of glycoproteins", Chemical Reviews, 118, 8359-8413 (2018).
6. Li C, Zhu S, Ma C, and Wang LX, "Designer a1,6-Fucosidase Mutants Enable Direct Core Fucosylation of Intact N-Glycopeptides and N-Glycoproteins", J. Am. Chem. Soc., 139, 15074-15087 (2017).
7. Li, T., DiLillo, D., Bournazos, S., Giddens, J. P., Ravetch, J. V., Wang, L. X., "Modulating IgG effector functions by Fc glycan engineering", Proc. Natl. Acad. Sci. USA, 114, 3485-3490 (2017).
8. Cai H, Orwenyo J, Giddens JP, Yang Y, Zhang R, LaBranche CC, Montefiori DC, Wang LX, "Synthetic Three-Component HIV-1 V3 Glycopeptide Immunogens Induce Glycan-Dependent Antibody Responses", Cell Chemical Biology, 24, 1513-1522 (2017).
9. Li, T., Tong, X., Yang, Q., Giddens, J.P., Wang, L.X., "Glycosynthase mutants of endoglycosidase S2 show potent transglycosylation activity and remarkably relaxed substrate specificity for antibody glycosylation remodeling", J. Biol. Chem., 291, 16508-16518 (2016).
10. Yamaguchi, T., Amin, M.N., Toonstra, C., Wang, L.X., "Chemoenzymatic synthesis and receptor binding of mannose-6-phosphate (M6P)-containing glycoprotein ligands reveal unusual structural requirements for M6P receptor recognition", J. Am. Chem. Soc., 138, 12472-85 (2016).
The Wang Lab is working at the interface of chemistry, biology, and immunology with a focus on the structures and functions of glycans and glycoproteins. Glycosylation is one of the most ubiquitous posttranslational modifications of proteins in eukaryotes. The covalent attachment of glycans adds a new level of structural and functional diversity of proteins and expands the biological information of an otherwise concise human genome. Students and postdoctoral researchers in the Wang group explore tools and concepts from various fields including synthetic organic chemistry, molecular biology, structural biology and immunology to understand the functional roles of glycans and glycoproteins in biological systems (host-pathogen interactions, symbiosis, and other important biological recognition processes). The group is also interested in translating the knowledge gained from functional and mechanistic studies into the design and development of more efficient therapeutic agents and vaccines against cancer and infectious diseases.
Current Research Projects
1. Chemoenzymatic synthesis of oligosaccharides, glycolipids, and glycoproteins
2. Site-specific glycoengineering and functional studies of antibodies
3. Design, synthesis, and immunological evaluation of carbohydrate-based HIV vaccine
4. Design and synthesis of specific ligands and inhibitors for manipulating the biosynthesis of glycoconjugates in cellular systems