Senior Mikael Daniel Wants to Help Foster an Inclusive Environment
Daniel is a member of the Department of Chemistry and Biochemistry's Racial Diversity and Inclusion Steering Committee. 
The killing of George Floyd last summer inspired people across the country to take action. For many, that meant doing their part to stamp out the systemic racism and inequities in America and help foster a more inclusive environment. Senior biochemistry major Mikael Daniel was one of those people.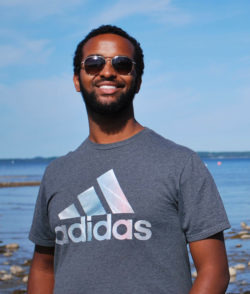 As he was riding his motorcycle one day last summer, Daniel encountered a group of Black Lives Matter protestors who motivated him to find a way to help push the movement forward.
"When the Black Lives Matter protests were happening last summer in response to the murder of George Floyd, I felt a deep urge within me to do something about it," Daniel said. "I spoke to the protestors and let them know that I thought what they were doing was really amazing and that this was far from the end of the fight. It was the first step of many toward racial equality and I was going to do what I could to help."
A few weeks later, Daniel received an email from the Department of Chemistry and Biochemistry asking if he would like to join the department's new Racial Diversity and Inclusion Steering Committee (RDISC).
"I saw this as my chance to keep my word to the protestors and I jumped at the opportunity," he said.
RDISC is helping the department identify best practices to foster a climate of inclusive excellence, equity and support for all, and especially understand and improve the experience of Black students, faculty and staff. 
"There's a lack of diversity in the faculty and staff hired by the department, and we also need to work on diversity from a student perspective as well," Daniel said. "I've witnessed incidents in which students who come from community colleges or different countries or minority groups are not quickly welcomed by other students."
Daniel and the other committee members hope that RDISC can help combat these challenges.
"What we want to foster is an overall sense of community," he explained. "If every student feels like they belong in the department, we can communicate better with each other and begin to break down the barriers between us."
The committee hopes to do this through communication with faculty, staff and students, as well as programs and activities.
"We are a new committee, so much of the work we've done thus far is laying the groundwork we need to increase inclusivity," Daniel said. "We issued a climate survey to gauge how inclusivity and racial issues affect students in the department, and we drafted a more racially oriented departmental mission statement. We've also begun planning events like trivia nights, sporting events and cookouts—for both the immediate future and once we can return to campus—that we hope will foster a sense of community."
The committee is also promoting diversity and inclusion in the next generation of scientists. Daniel and Chemistry and Biochemistry Professor Ross Salawitch lead the committee's outreach efforts. They speak virtually with local high school students about STEM-related topics and encourage students from all backgrounds who want to pursue a STEM education. 
"The committee provides a mechanism for local area high school students to engage in meaningful conversations with staff, students and faculty about the possibility of a future career for themselves in STEM," said Salawitch, who is also a professor in the Department of Atmospheric and Oceanic Science and the Earth System Science Interdisciplinary Center.
"We have focused on local area high schools with diverse student populations, as well as a diverse set of University of Maryland representatives, so that the high school students can see that 'people who look like me' are taking advantage of opportunities to achieve a STEM education. Most importantly, every event has a question-and-answer component. It has been heartwarming to connect with a diverse set of students over our shared love of science."
Daniel also developed presentations for the high school students around the theme "Chemistry in Life and Life in Chemistry," which discussed mask wearing, the science of vaccines and careers in chemistry.
"It's really fulfilling to be able to talk to such a diverse group of students and help them see themselves in STEM," he said. "Representation like this is so important."
When Daniel graduates, he wants to find a way to merge his science background with his passion for community outreach and social justice. He currently interns with Maryland State Delegate Jheanelle Wilkins and hopes to enter the Peace Corps after college and eventually go to graduate school.
"I want to find a way to use my science background to help those around me and better my community," Daniel said.
 
Written by Chelsea Torres