In Memoriam, Diane Canter, 1957 - 2022
Diane Canter, a long-time employee and friend to generations of students, staff and faculty in the Department of Chemistry & Biochemistry, passed away on November 30, 2022.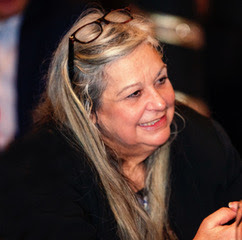 Diane came to the University of Maryland first as a student after her graduation from Fairmont Heights High School.   She initially worked in the Division of Parole & Probations for five years before returning to the University of Maryland, College Park in 1984 for an administrative position in the Department of Chemistry and Biochemistry.  She remained an employee in the Department of Chemistry & Biochemistry for 37 years,  serving in a variety of capacities including faculty services, student services and general administration.  She impacted the Department greatly through her recurring roles in the Graduate Office between 1984, when she was recruited by Professor William Walters to staff the reorganized graduate office, and 2021, when she retired from her position of Chemistry Graduate Program Coordinator.  Diane was legendary for knowing all of the rules of the University of Maryland Graduate School, and helping generations of Chemistry & Biochemistry Graduate Students navigate through the labyrinth of Graduate School regulations to their degrees.  She was always a friendly and calming presence in the Graduate Office,  ready to listen to  student concerns, and to provide informal counseling from her long experience in working with students, faculty, and the Graduate School.  At the time of her 2021 retirement, she was the most senior staff person in the department and a friend to all.  
In the words of Professor Emeritus and former department Chair Phil Deshong, "Diane Canter is the nicest person I have ever had the privilege of working with."
She enjoyed participating in Department extracurricular activities, such as playing on the softball team as a young staff member,  and went all out in creating a spooky Graduate Office at Halloween with many special effects.   She volunteered her time and energy at department picnics and parties, and  took joy in creating a community. 
Diane is survived by her beloved son Kyle Koltko and her four brothers and their wives, Donald and Beverly Canter and George and Lynne Canter, Howard and Marge Canter and Gary Canter  and many nieces and nephews.  
Her obituary can be found here -  https://rauschfuneralhomes.com/service/diane-faye-canter/
A Celebration of Life for Diane was held January 14, 2023,  11:00 a.m. at Wesley Chapel United Methodist Church, 110 Wrighton Rd, Lothian MD.