Award Winning Chemist Peter Nemes to Join UMD Faculty
Peter Nemes, an expert in biological mass spectrometry and bioanalytics, will join the faculty of the Department of Chemistry & Biochemistry at the University of Maryland, College Park (UMD) in January 2018.
Nemes, currently an Assistant Professor in the Department of Chemistry at George Washington University, will strengthen and develop new research programs in bioanalytical chemistry. Bioanalytical chemistry is an interdisciplinary research area at the intersection of analytical chemistry, biology, and applied health science. Bioanalytical chemistry addresses the need for new measurement and data analytics approaches to solve outstanding biological and medical problems.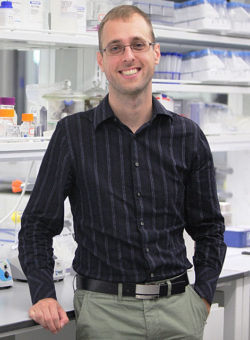 "Dr. Nemes' appointment will build on the university's expertise in nanobiotechnology, and the College's core strengths in chemical biology, cellular biology, and proteomics. His expertise in system data analytics and stem cell research will further advance the Brain and Behavior Initiative, and foster new collaborations with the School of Medicine," said Jayanth Banavar, Dean of the UMD College of Computer, Mathematical, and Natural Sciences.
"The analytical advances that Dr. Nemes has developed, through innovations in microscale sampling and separations for high-throughput mass analysis, are at the cutting edge of biological mass spectrometry research. His methods enable the spatial and temporal measurements of important metabolites, peptides, and proteins in single cells, allowing direct studies of chemical and biological action within living systems. His ability to track health and pathologies at the root chemical level advances the frontiers of chemistry and biology, and creates new tools and concepts for therapeutics and drug development, "added Janice Reutt-Robey, Chair of the UMD Department of Chemistry and Biochemistry.
Nemes is a pioneer in the development of ultrasensitive mass spectrometry and data network analysis for deciphering gene expression in single differentiating cells. He develops next-generation technologies based on ultra-performance liquid chromatography, capillary electrophoresis, electrospray ionization, and high-resolution mass spectrometry to enable the detection and quantification of important proteins, peptides, and metabolites in ultra-high sensitivity. These advanced bioanalytical tools reveal how differential expression of the genome coordinates cell molecular processes critical to the normal development of cell heterogeneity, body patterning, and formation of the nervous system. His research uses powerful models in cell and developmental biology and neuroscience, including the frog (Xenopus laevis), zebrafish (Denio rerio), and mouse.
"The diversity and complexity of biological samples presents many research challenges and opportunities. I look forward to my move to the University of Maryland to pursue both fundamental and applied work on biological mass spectrometry. I welcome the opportunity to educate and train the next generation of students and researchers on bioanalytical chemistry, and inspire them with exciting applications in metabolomics and proteomics as well as cell and developmental biology, neurobiology, and glycomics" said Nemes.
Nemes received his Ph.D. from the George Washington University. After postdoctoral research in bioanalytical neurobiology at the University of Illinois, he joined the U.S. Food and Drug Administration as a Staff Fellow in the Division Chemistry and Materials Science. In 2013 he joined the faculty of George Washington University as an Assistant Professor. His awards include selection as a 2016 Beckman Young Investigator by the Mabel and Arnold Beckman Foundation, as a 2016 DuPont Young Investigator by DuPont, and as a CAREER Investigator by the National Science Foundation. He is the recipient of important professional society awards including the 2016 Arthur F. Findeis Award for Achievements by a Young Analytical Chemist by the American Chemical Society (ACS), the 2017 Robert J. Cotter New Investigator Award by the US Human Proteome Organization (HUPO), and the 2017 ASMS Research Award by the American Society for Mass Spectrometry.